fAMILY LAW | SUCCESSION LAW | wills and estates
LAWRENCE SINCLAIR LAWYERS
135 SUTTON STREET | REDCLIFFE
Boutique Law Firm based in Redcliffe
Lawrence Sinclair Lawyers is a boutique law firm with experienced lawyers primarily based in Redcliffe.
Tina Lawrence is the Principal Lawyer of the firm and moved to Redcliffe in 2017 to merge with Sandra Sinclair Lawyers. Tina practices in family law but also has experience and qualifications in succession law.
Family law matters often involve issues of inheritance, property transfer and business interests and we consider that our experience and ability in other areas of law assists us in our family law practice.
ACCESSIBLE
We do not confine ourselves to office hours. Emails are constantly monitored and will be responded to in an emergency.
EXPERIENCED
Tina Lawrence has worked in law firms for over ten years as a clerk and lawyer.
FOCUSED
There is often a temptation in matters involving family members and former partners to lose your way in arguments about things that cannot be changed or decided by a court. We help our clients to keep focus and not waste their legal fees in sending multiple letters to the other side debating issues that have no relevance to the resolution.
A lot of firms will tell you that specialising in one area of law will make you a better lawyer in that field. This is true to an extent but if you have practised in one area primarily but still have additional practice areas the knowledge can feed in to your primary practice area. It is not unusual for a family law client to want to know about wills and estates or for a succession law client to want to know more about family law.

Family Law is a wide area of law ranging from parenting matters to property settlement and divorce matters. Within the above areas there are again multiple issues that are covered by family law. For example, parenting matters can be relatively straightforward negotiations around the time spent with each parent to applications for recovery and relocation orders and urgent applications in the event of risk risk situations.

Like family law, succession law is a wide area of law that covers many different types of disputes. It includes the preparation of wills, adminsitrations of estates including applications for probate and letters of administration (when there is no will) to contesting wills on the basis of a law of adequate provision to a spouse, child or dependant as well a lack of capacity at the time of executing a will.

Domestic violence is becoming a specialised area of legal practice given the ever changing legislation and the number of applications being made and defended in the Magistrates Courts. The definition of domestic violence is very wide and it can be difficult for people outside of the legal profession to know if they are involved in a situation that would be defined as domestic violence.
Tina Lawrence
BA LLB (hons) LLM (Applied Law)
Tina received her first degree in Arts at the University of Queensland. She then spent the better part of ten years working and travelling overseas living primarily in Japan and Hong Kong. She returned to Queensland to study law in 2004 and commenced working as a law clerk with the specialist family law firm ReesLaw in Toowoomba in 2008. After being admitted as a practitioner, Tina moved to Cairns to work for five years in family and succession law before returning to south east Queensland in 2014 to commence her own solo practice. Tina has recently received her Masters Degree in Applied Law in Wills and Estates (Succession Law) and practices primarily in family law and succession law.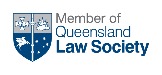 Need some information about how to get started?
How much are initial consultations?
Tina charges $275.00 for an Initial Consultation including GST. Initial consult fees must be paid on the day of the appointment. You will be given some information to take away with you after the appointment to review and keep for your reference.
What happens after the first appointment?
That is entirely up to you. You might decide that you want to represent yourself without a lawyer. If you do, that is fine but please let us know as we may be able to direct you to other resources that would assist you in your journey. If you wish us to act on your behalf we will ask you to sign a client agreement and to deposits funds in our trust account in anticipation of our fees. This is to protect both of us.
Can I change lawyers?
Of course you can. If your fees are up to date your file will be returned as soon as you make the decision to go to another lawyer. If you are feeling unhappy about how your file is being handled we ask that you talk to us about it first. Sometimes there are good reasons for why we are doing the things that we are doing and it might just be a matter of reviewing all the options that are available to us.
How much will all of this cost?
As most lawyers charge on an hourly rate, it will depend how much time is spent working on your file. All tasks are generally charged for including emails, telephone calls, appointments and drafting letters and court documents. You are entitled to an update on your fees at any given time.
In very general terms the costs can be as follows in family law matters:
1. Preparation of Application for Consent Orders for Property and Parenting $1650 – $4,400. If the parties have agreed to their settlement and have set out the values of all assets, liabilities and financial resources the costs can be kept low;
2. Initiating Court Proceedings $2,200 to $3,300 depending on complexity;
3. Attending Mentions and Interim Hearings $2,200 (straightforward matters) to $5,500 (more complex matters)
4. Final Hearings $22,000 to $35,000 depending in choice of barrister and number of days.
Click on the links below for more information about understanding costs and your rights to challenge
Ten Questions to Ask Your Lawyer About Costs
Your Right to Challenge Legal Costs
Why do I need to put money in your trust account?
Before most lawyers will undertake work, they will ask for money in trust first. This is to protect both of us. We do not want to commence working for clients who will be unable to pay their ongoing fees as this is unfair to the clients who are paying as they go and places too much pressure on the firm. Similarly for clients we are not doing you any favours by allowing you to incur debts that you will then struggle to pay back.
Sometimes if there will not be much work required on a matter we will accept a lower deposit or will issue interim invoices and then stop work until that bill is paid before continuing, Unfortunately it is not always possible to do that as our obligation once we commence acting for you is to continue regardless so for this reason we often will need to stop entirely if clients cannot cover our ongoing work.
Get in Touch
We would love to answer any questions or schedule a meeting. Please feel free to give us a call or send us an email using the details below.
135 Sutton Street, Redcliffe QLD 4020
Ph: (07) 3285 6888
Email:info@lawrencesinclairlawyers.com.au